About The Prints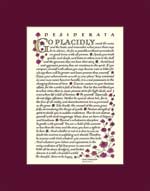 The original art of each print is hand-lettered in beautiful calligraphy by Sherrie Lovler. Each letter is carefully crafted paying close attention to both the letter form and the space between the letters. The style of lettering is chosen to match the sentiment of the words. Sherrie's individual touch creates easy-to-read styles at any size reproduction

In designing the artwork Sherrie pays close attention to the words. Some designs are bold with borders, others have flowers or other painted areas. Sherrie's work has a classical resonance to it, so whatever quote she is working on, the design complements it.
Sherrie works in ink, watercolor and gouache (opaque watercolor). When the work is finalized, she scans it into her computer and makes beautiful giclée prints (high quality ink jet prints) on archival paper with lightfast inks. A few of the designs are reproduced as offset lithographs.
The prints are offered in a variety of colors and sizes to match your decor and budget. The matting and backing are all archival quality. The matted prints are enclosed in a plastic sleeve.
The frames are solid wood with the artwork protected behind glass. They are then individually boxed to make perfect gifts for any occasion.

go back to previous page