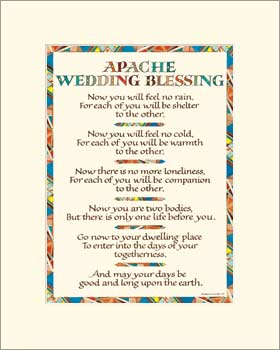 Apache Blessing
Calligraphy Print
8 x 10" outside mat
5-1/4" x 7-1/4" inside mat
$25.00 + shipping
On Sale Now! $14.95    40% off!

cream

single mat

buy

See left sidebar for
more sizes & options
A prayer for people uniting in love, companionship and warmth. This is a wonderful blessing to read at your wedding or at a time of renewing your vows. A perfect gift for those getting married.
More Calligraphy Prints: